Harvest Festival 2023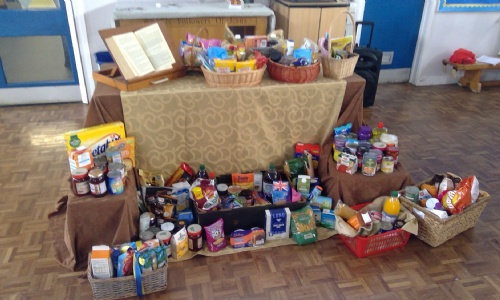 Around the world, one in three people have gone hungry in the last year. This Harvest, help to brighten up the world by fundraising for our global family.
Pupils took the opportunity to Wear Something Bright for Harvest and they looked amazing this afternoon for our harvest service. Kacper, Nayra, Tilly, Edwin, Noah and Chloe all stood out in their florescent clothing and were definitely the most brightly dressed.
There were 233 items for the Food Bank and £87 raised for Cafod. Pupils found out about Cafod's work in Pakistan and the role the Foodbank plays in Haverhill. This was all shared alongside some of our favourite hymns and everyone joined in enthusiastically with Laudato Si.
A lovely autumn day to give thanks.