St Felix 50th Activity Day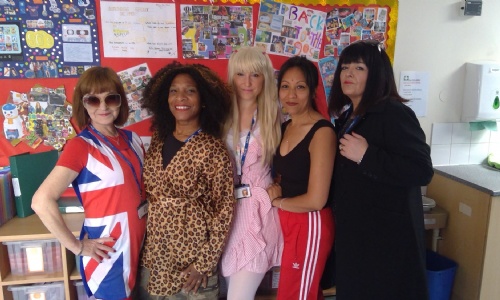 St Felix opened in 1973 and today we celebrated the five decades which followed with an exploration of music, art and fashion from those years.
Staff and pupils dressed up to match their eras:
Y3/4 - 70s
Y5/6 - 80s
Y1/2 90s
EYFS 2000s
The musical icons ware represented by the Spice Girls, One Direction, Dexy's Midnight Runners, Adam Ant, Suzi Quatro, Abba and Madonna. Other featured characters were the Ninja turtles, Ariel the Mermaid and Simon Callow. Alongside these were a rainbow of brightly coloured fashion statements from the decades - flares to fingerless gloves.
Children learnt about the elements of music and compared the pop music of the decades to the classical music and hymns they hear in assembly. "I could hear a melody and the beat was faster" said Kien after listening to the Spice Girls.
"This is very fast music with lots to listen to," said Spencer. "But I like the hymns in assembly. I really like the Lord's My Shepherd one." He had been listening to a selection of music through the decades.
Kristian had similar reservations about Walking On Sunshine. "I like the musical in assembly better like Come and Join the Celebration."
Year 3 and Year 4 were considering whether graffiti was art or vandalism and decided it was all about context. Y1 and Y2 looked at Children's TV of the 90s and used ipads and QR codes to register their team to take part in whole class quizzes. The competition was fierce and their dexterity with digital technology was breathtaking. Y5 and Y6 created dances to Flashdance and reflected on the social justice element of 80s music events such as Live Aid.
It has been a fun day and wonderful to think about all the events which have occurred in the life of St Felix.