St Felix Sports Day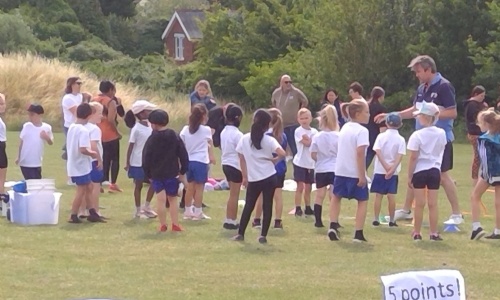 Thank goodness for perfect weather!
We enjoyed our first full Sports Day and Picnic in four years. It was wonderful to be able to celebrate sport together as a community and then enjoy a picnic.
Each phase had a series of sporting activities to take part in so that the focus was on children actively doing sports rather than passively watching other children do sport. There was javelin, obstacle, hurdles, egg & spoon and standing long jump. We were delighted to have so many parents with us and even more delighted when they joined in with many of these activities and shared the spirit of the occasion.
After a short break Y1-Y6 assembled to have the house relay races. These were competitively run and superbly cheered on by the rest of the school and the parents.
The results were:
KS1 girls - St Francis
KS1 boys - St Elizabeth
LKS2 mixed - St Elizabeth
UKS2 girls - St Francis
UKS2 boys - St Peter
We added up the scores from the morning activities and added these to the scores from the relays and the winning house for Sports Day was ...St Peter! Thomas and Millie proudly collected the trophy.
Finally, it was picnic time. Families gathered with friends and it was great to see the field filled with our St Felix community in this our 50th year. ...and the forecast rain stayed away!