Internet Safety Day 8.2.22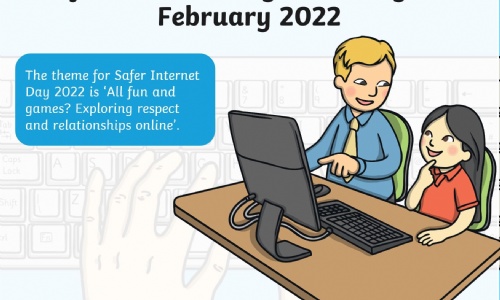 Today was Internet Safety Day and the E Safety Team led a whole school assembly to ensure that all the work completed in class today was linked together. The theme was All Fun and Games? Exploring Respect and Relationships Online.
The children were asked about their use of the Internet and the ways they use it play and connect:
Who do you think owns the Internet?
Who do you think decides what can be put on to it?
Who makes sure the things on the Internet are truthful and real?
No one owns the Internet. No one decides what can be put on.
The Internet can be used by everyone and everyone can add things to it!
Remember anyone can use and add things to the Internet, which means that we can't always trust what we see on it.
We can't always trust that people who want to talk to us on the Internet are nice.
We can't always trust the websites on the Internet. Some may have viruses that can stop our computers from working properly!
The key message from the E Safety Team was be SMART
Stay Safe: Never give your name, address or passwords out to anyone online. They may say they are the same age as you but they could be lying!
Meet: Never go to meet someone you have made friends with online. If an online friend wants to see you, talk to an adult. Remember that they might not be who they say they are!
Accepting: If someone sends you a photo, or a file, ask an adult before you open it. It could have a virus! Don't accept it!
Reliable: Remember that you can't trust everyone who uses the Internet. Not everyone is kind. They aren't reliable.
Tell: Tell an adult if something online upsets you or makes you worried.
Please visit https://www.bbc.com/ownit if you wish to find out more about ways to help your children manage their gaming and other online issues.