Forest of Promises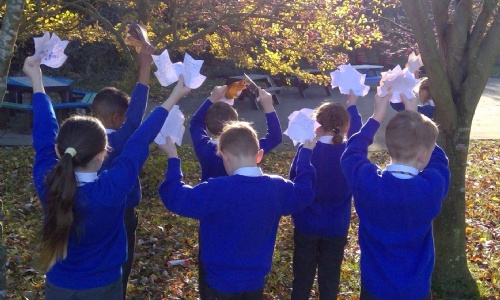 Schools hold a special position in the lives of pupils and communities, meaning that they have the power to help shape the future. They can take real action on the biggest issues of our time. What happens in school doesn't stay there – it can bring change to the local community, wider society and the planet itself, helping in the fight against climate change and biodiversity loss
Our Climate Our Future: Global Schools' Guide to COP26
As part of our Renew the Face of The Earth Project, pupils have been getting involved with some of the activities the WWF have launched to coincide with COP26.
Children in EYFS and LKS2 took part in the Forest of Promises:
The Forest of Promises: 5th November 2021 #PromiseToThePlanet is a campaign led by the World Organisation of the Scouts Movement, aiming to bring as many people around the world as possible on board with the mission of finding solutions to the climate crisis.
To take part students make leaves from paper or card (or find fallen leaves) and write a #PromiseToThePlanet that they wish to make on one side.
Some of our promises include:
I promise to throw away less stuff
I promise to recycle more paper
I promise to eat less meat
I promise to get to better at cycling
I promise to turn the light out
These promises are being used as a starting point for our school climate action plan.