Ministry Team Visit to Diocesan Mass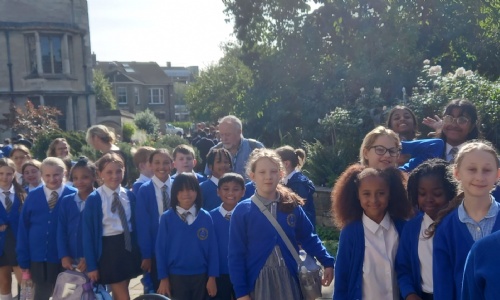 After a gap of 3 years, it was wonderful to join together with other Catholic schools in the Diocese at St John the Baptist Cathedral in Norwich for the annual Diocesan School's Mass with Bishop Peter.
Twenty-seven children from Year 6 attended the Mass in Norwich on a beautiful autumn day. They represented the school with lovely singing and an understanding that they were ambassadors for St Felix. When asked how they felt about the day, these were their comments:
The cathedral was very colourful and it was good to see all the other schools.
I loved it when the sunbeams hit the incense cloud high up - it was magical.
I liked the hymns like the Lamb of God - we were turning prayers into songs.
The cathedral was beautiful.
I liked it when we had to sing and the singing of other people.
It was nice to see the bishop.
I liked the stone saints down the sides of the Cathedral.
When he was leaving, the bishop commented on my hair, which made me feel special.
One of the best masses I have ever been to.
I like the pillars and statues all around the cathedral.
The bus trip was really good too.
The breathtaking cathedral was 19m tall!
I think they have said it all. A wonderful, well-organised spiritual day in an awe-inspiring space.