Wet Wide Welly Walk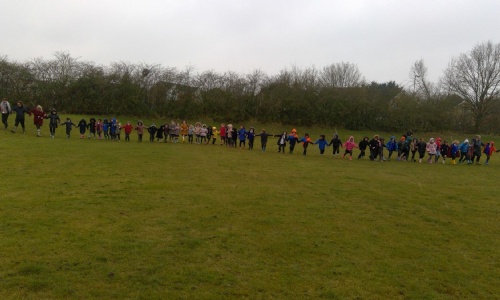 Today was our Wide Welly Walk for CAFOD ...in the wet!
220 pupils and 15 staff were joined by Father John and Rev Max Drinkwater to walk 100 steps in solidarity together. We formed a single line across the top of our field and when the whistle blew everyone marched forward. The line was not quite as uniform as hoped as enthusiasm got the better of some children who were keen to get ahead.
We were not deterred by the weather - the rain decided to fall just as we went outside - but marched bravely forward in our wellies to show our support for those facing hunger including those affected by the war in Ukraine. So far we have raised £119 from our JustGiving page and have yet to add the total collected on the day in cash donations.
A huge thank you to our parents who sent in wellies for children to wear on our very muddy field and have supported CAFOD financially.