NSPCC Number Day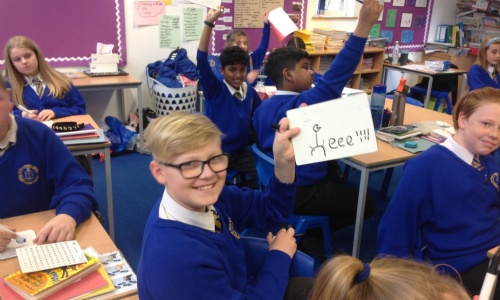 Year 6 above having fun with Egyptian counting
Daniel and Chloe, St Catherine House Captains have organised the fundraising for our Number Day and this is their report of the day:
At St. Felix, the pupils have been having so much fun on Number Day. Here are some activities that the pupils have done:
In Key Stage 1 they have been designing number monsters and shape monsters. They have also been sharing numbers and ordering numbers on clocks.
In Lower Key Stage 2 the pupils have been using their weighing and measuring skills to see how many of an object it would take to get to a given weight. They were also looking at how many objects it would take to measure exactly 1 metre.
In Upper Key Stage 2 they were investigating the Ancient Egyptian number system and creating their own calculations using hieroglyphs.
Across the school there were various competitions including Maths quiz and a competition to see who could bring in the oldest coin of each denomination.
All in all, the children had lots of fun and we raised a total of £73.96 for the NSPCC. Thank you to everyone who took part.